1. For the fair-skinned, like myself, get a parasol, and use it always.
I really hate the sun, and even more, I hate tans and tan lines. I also hate sunscreen. It is greasy, for best results you should apply it 1/2 hour before sun exposure (I don't have that kind of foresight), and it smells. So my preference is definitely a parasol.
The one I bought is nothing special. It is really just a black flowered umbrella with some lace around the bottom. There are some options out there:
THE REGULAR OL' UMBRELLA
Which is fine because it serves a dual purpose: protection from the rain and the sun. But it's kinda boring.
THE VICTORIAN PARASOL:
Which is just ok. The lace lets too much sunlight in for my pale skin.
THE ASIAN PARASOL
This papery parasol looks like it might not stand up to a gust of wind. Not my type.
THE GOTH PARASOL
Which is my favorite. Minus the shiny dress that probably squeaked when she sat down.
But if I can find this or something like it, I will purchase it immediately.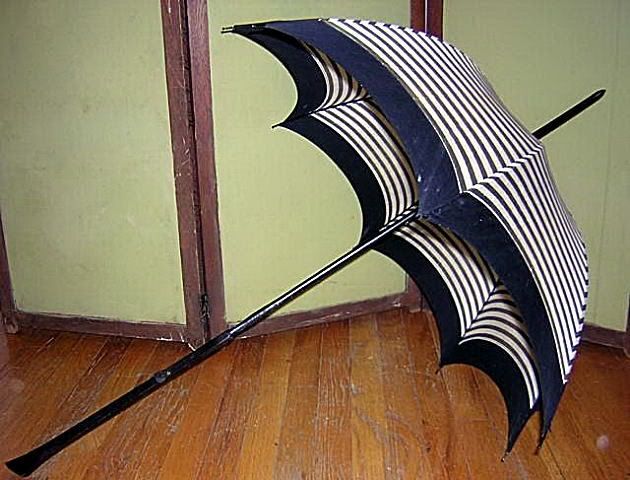 Walking around with your parasol will be quite fun, I assure you. I love the strange looks me and my parasol get from all the 40-year-old leather chests I pass by. I am the one that should be giving them and their freakishly burnt skin the strange looks. I wonder if they know they look disgusting, have accepted that it is just too late, and keep tanning anyway? Or if they really think that leather skin looks good?
2. Do not wear flip-flops unless you are heading to the beach.
3. Do not go to the beach unless you are wearing a suit like this:
My Baby Jo
is a good place to find one like it.
I'm also a fan of the playsuit:
(those are some good pockets)
I think that the more conservative suits are sexier than bikinis. But what do I really know about beachwear? I'm afraid I share Woody Allen's dislike for the beach. I don't like the sand, the sun, the water, and particularly the waves. They scare me.